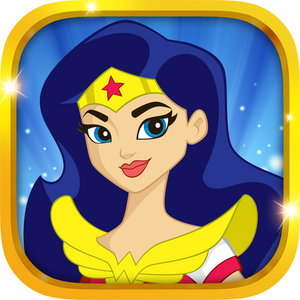 DC Super Hero Girls is a mobile application developed by Mattel and DC Comics and distributed by Warner Bros, based on the DC Super Hero Girls franchise. It is currently only available on iOS devices, but plans are being made to release it on Android devices as well.
Official description
WELCOME TO SUPER HERO HIGH SCHOOL!

At Super Hero High, iconic Super Heroes like Wonder Woman, Supergirl, Batgirl, Harley Quinn, Bumblebee, Poison Ivy, and Katana navigate all the twists and turns of high school in their formative years. United by friendship, the DC Super Hero Girls empower kids to shine with confidence and courage, especially while they combat those overwhelming, exciting, and awesomely awkward moments of growing up…and battling some of the biggest baddies around!

Join these iconic Super Heroes in the official DC Super Hero Girls mobile app!

FEATURES
• Explore Super Hero High and the super-bios of the student body
• Watch webisodes featuring all the DC Super Hero Girls!
• Take pics and customize them in true Super Hero style!
• Play fun mini-games like Katana Chop for endless hours of fun!
Features
The main screen is a version of the main entrance to Super Hero High School that can be navigated. An instrumental version of the song Get Your Cape On plays in the background.
The loading screens in-between areas feature any one of the seven main characters.
Tapping the blue circle on the door underneath the banner with the school's logo leads to character descriptions of the characters Wonder Woman, Supergirl, Batgirl, Harley Quinn, Bumblebee, Poison Ivy, and Katana. An additional section is provided to supporting characters, but isn't available yet.
Tapping the blue circle by Poison Ivy leads to an area where various videos can be watched, including the webisodes and commercials.
Tapping the red circle by Supergirl leads to an area where the player can edit photos using various decorations that can be purchased with shields that can be collected from mini-games.
Tapping the red circle by Jinx leads to the mini-game area, where Katana Chop (associated with Katana) and Shield Defense (associated with Wonder Woman) can be played, with another game for Batgirl coming soon.
A faded blue circle by Batgirl is marked as "Coming Soon".
Characters
The characters who appear in the foyer are listed below. Only Bumblebee, Wonder Woman, Supergirl, Katana, and Harley Quinn have limited movement; everyone else remains still.
Gallery
Ad blocker interference detected!
Wikia is a free-to-use site that makes money from advertising. We have a modified experience for viewers using ad blockers

Wikia is not accessible if you've made further modifications. Remove the custom ad blocker rule(s) and the page will load as expected.