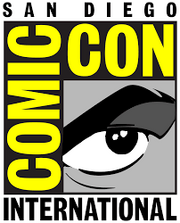 San Diego Comic-Con International is an annual convention held every year in San Diego. DC Super Hero Girls has appeared at the convention each year since its reveal.
2015
After the franchise's initial reveal in April 2015, DC Super Hero Girls made it's first appearance at San Diego Comic Con in July, where it revealed their first doll lines and action figures, along with a creator panel, featuring Tiffany Smith of DC Entertainment, Lisa Yee, author of the novels, Shea Fontana, writer of the webisodes and author of the graphic novels for the series, and Aria Moffly, head producer and creator of DC Super Hero Girls.
2016
DC Super Hero Girls will once again be in attendance at the 2016 Comic Con with an exclusive Katana doll available for purchase.
Ad blocker interference detected!
Wikia is a free-to-use site that makes money from advertising. We have a modified experience for viewers using ad blockers

Wikia is not accessible if you've made further modifications. Remove the custom ad blocker rule(s) and the page will load as expected.